It's no surprise to learn that computers are vital to everyday life, so it's also no surprise to learn that digital skills are essential for everyone.
These skills, such as working collaboratively online, or being able to safely and effectively use a web browser and tools such as email and search engines, may seem simple, but they can open up many possibilities.
These digital skills are also important in schools. Learning to read and write is a process of learning fundamental skills that will be needed every day, for the rest of life; digital skills, too.
Learning is something that has to happen and, in fact, has to be a possibility throughout our lives. But the seed of a lifetime of learning is sown in school. Unfortunately, for the most part, digital skills have not had the priority they should. Digital skills remain scandalously low in many cases.
Only 7% of students aged 15-29 in Austria had "very good" digital skills according to a study carried out by the OCG, the National ECDL / ICDL Operator in the country. Another study in Australia revealed that 45% of the students were users with a rudimentary level of Information and Communication Technologies (ICT).
A common reaction to the need to develop young people's digital skills is to blame the technology for the problem. Large investments in classroom hardware and e-learning solutions promise to create a generation of 'digital natives'.
But, as we argue in our opinion paper on the fallacy of "digital natives," there is no proof that young people have these innate digital skills. Buying a lot of technology for the classroom is simply not enough; building the digital skills of teachers and students is a vital step to truly benefit from technology in education.
This point was highlighted in an OECD report, which found that the use of technology in the classroom does not always lead to better quality education or greater student achievement. For example, in math tests, time spent using computers led to lower student achievement!
The report, entitled "Students, Computers and Learning: Making a Connection," compared different countries in terms of school computer use and student achievement. It was based on the PISA study of the reading, mathematics and science skills of 510,000 15-year-olds in 18 countries.
It is important to note that these results do not suggest that countries should stop investing in technology in schools. There are many ways for computers to open up opportunities for teaching and learning, if used effectively. But the report makes it clear that when schools are equipped with computers, the teaching method must be adapted.
In other words, students must be taught how to use digital technologies effectively and productively. OECD Director for Education and Skills Andreas Schleicher writes: "Technology is the only way to radically expand access to knowledge.
To achieve the promises of technology, countries need to invest more effectively and ensure that teachers are at the forefront of designing and implementing this change.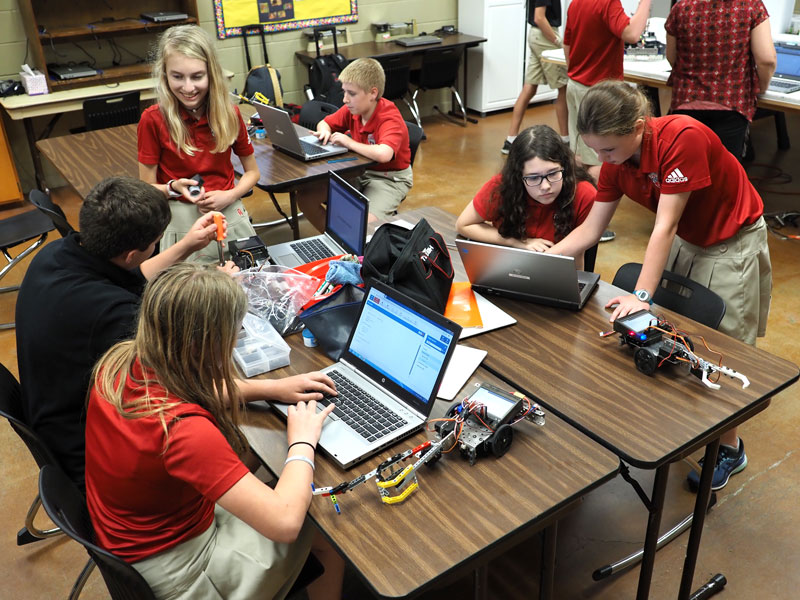 There is a lot of research supporting the need for teachers to have strong skills in using technology in the classroom. A study by the European Commission revealed that only 25% of students have digitally competent and digitally supportive teachers, while another OECD study found that 56% of teachers report that they have "moderate to high competency development needs" when it comes to using technology in their work.
Thus, while digital skills are essential for students to make the most of computers, they are also vital for teachers, enabling them to take full advantage of ICT in the classroom and avoid the potential risks of poor use of these technologies.
There are many opportunities for better learning as a result of having computers in schools, universities and colleges. The key to seizing these opportunities is digital skills. A recent study shows that when schools are equipped with computers in the classroom, it is vital that both teachers and students develop strong ICT skills to take full advantage of them.
Keeping safe online
In addition to their many opportunities, computers and the Internet bring potential dangers that did not exist before: cyberbullying, online privacy and the risks of online bullying are just some of the dangers young people may face when using technology. Fortunately, learning about the dangers, and how to deal with the problems, can be a way to make the Internet a safer place.
There are many ways computers are used in the classroom, from day care and preschool to higher education. Digital skills are a basic set of skills, along with arithmetic and literacy, that must be developed from the early stages of school. The risks for students who lack digital skills are great, both for their education and for their future.
When there are so many new possibilities thanks to computers, students who do not have the right skills miss out on learning opportunities that other students will have. Later, young people who have not developed strong ICT skills will be disadvantaged in a labour market that increasingly sees digital skills as a prerequisite.
The essence of technology is that it is constantly changing. Computers are increasingly present in everyday life; from smartphones to tablets and laptops, the old idea that a computer is just a gray box on a desk is, in many ways, on the decline.
Digital skills are the skills needed to use a computer competently, whatever form it may take. Digital skills are skills for work, life, and learning. Without digital skills, young people are unlikely to benefit from the technological advances that are reshaping the workplace and redesigning the way we all live our lives.
Just as schools play a key role in equipping students with literacy and numeracy skills, they also play an essential role in providing their students with the skills to use computers effectively and safely.